Xendurance Protein Lean - 20 servings
Related products
LEAN is a low-carb, plant based, all-in-one shake you can enjoy anytime of the day! It's nutritional makeup is both complex and comprehensive, containing elements of a nutritional meal that is a great compliment to a well balanced diet. With 20 grams of plant protein and organic greens you may choose this as a meal replacement or a midday snack depending on your goals.
Plant-based, protein formulated from Non-GMO pea and chickpea proprietary formula, innovative and smooth texture
Contains superfood greens: moringa, kale, acai berry, goji berry, spirulina and chlorella, that are antioxidant rich and nutrient dense superfoods to help fight oxidative stress and ageing
40% of 12 daily vitamins and minerals: packed with micronutrients.
Naturally flavoued, for a natural delicious taste
INGREDIENTS: Superfood Greens Proprietary Blend 1.6 g** Organic Kale (Brassica oleracea), Organic Moringa Leaf (Moringa oleifera), Organic Spirulina (Spirulina platensis), Organic Chlorella (Chlorella vulgaris), Organic Acai Fruit (Euterpe oleracea), Organic Goji Fruit (Lycium barbarum).
RECOMMENDED DOSAGE
1 scoop with 180 ml of liquid.
NUTRITIONAL INFORMATION:
Serving size: 35 grams (1 scoop)
Servings per container: 20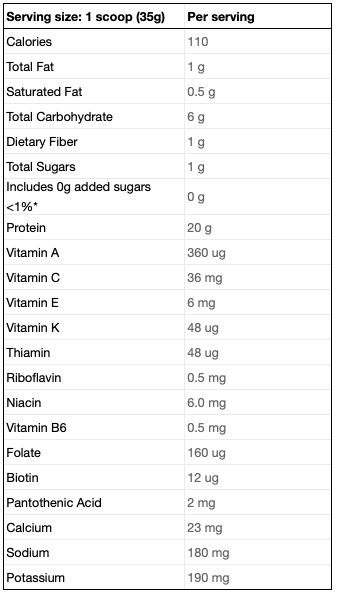 OTHER INGREDIENTS
Pea Protein, Chickpea Protein, Coconut creamer (non-fat dry coconut milk, tapioca maltodextrin, coconut oil, less than 2% sunflower lecithin and tricalcium phosphate), natural flavours, organic coconut sugar, silicon dioxide, organic stevia leaf extract (Stevia rebaudiana), salt.